Aspire Cover Spotlights Custom Concrete Home by Founder of ShapeCrete
The cover of Aspire Design and Home features House 6, a custom concrete home by Fu-Tung Cheng, principal of CHENG Design and founder of ShapeCrete. The following has been excerpted from the Autumn 2016 issue: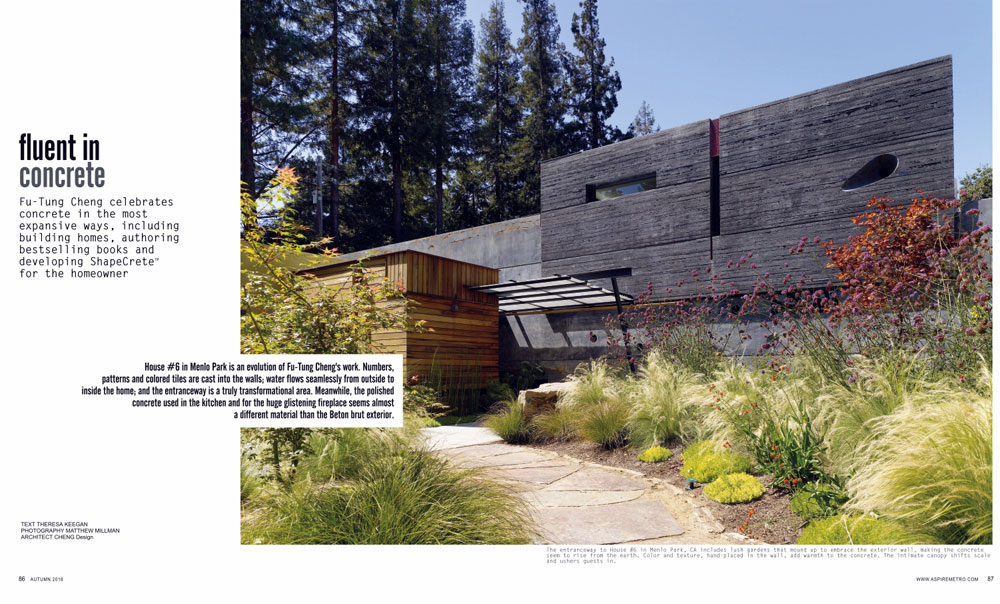 Fu-Tung Cheng Celebrates Concrete in the Most Expansive Ways, Including Building Homes, Authoring Bestselling Books and Developing ShapeCrete for the Homeowner
by Theresa Keegan
When Fu-Tung Cheng removes the concrete molds from his construction sites, he hasn't just built homes – he's built beauty. His reverence for concrete is evident in his kitchens, meditation rooms and just about any part of a home that one can imagine.
Cheng's fascination with concrete started with his own kitchen in a tiny home he bought upon graduating from the University of California, Berkeley with a degree in fine art. "I looked at the kitchen space as a design challenge," he recalls. He questioned the typical paradigm that a kitchen is made of boxes and slabs, and premeasured exacting spaces, which resulted in a beautiful, practical room. All kitchen appliances are within close grasp, cutting boards slide into countertops, and the catching drainboards allow for water to flow easily. "It became an estuary," states Cheng.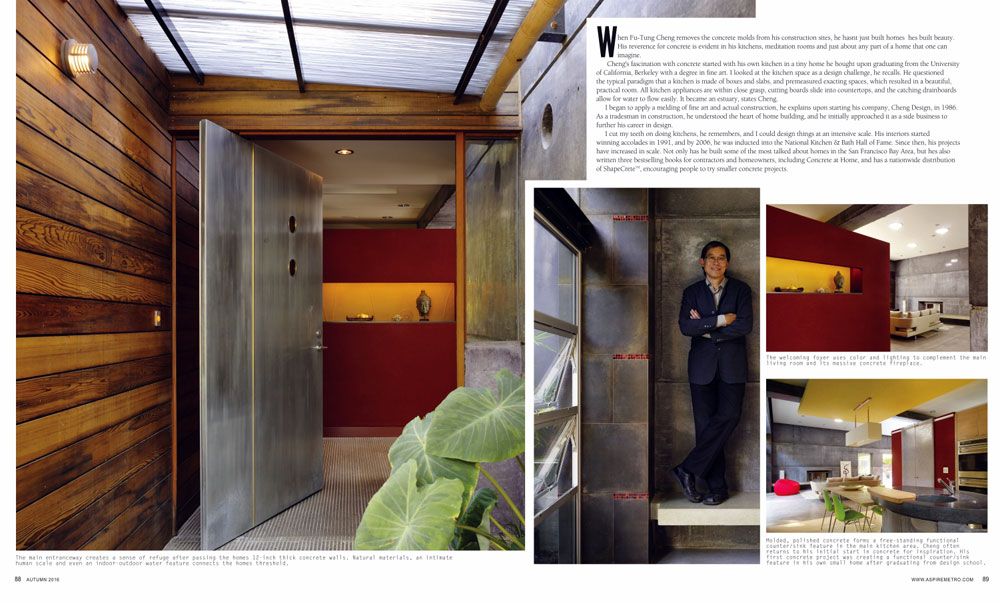 "I began to apply a melding of fine art and actual construction," he explains upon starting his company, Cheng Design, in 1986. As a tradesman in construction, he understood the heart of home building, and he initially approached it as a side business to further his career in design.
"I cut my teeth on doing kitchens," he remembers, "and I could design things at an intensive scale." His interiors started winning accolades in 1991, and by 2006, he was inducted into the National Kitchen & Bath Hall of Fame. Since then, his projects have increased in scale. Not only has he built some of the most talked about homes in the San Francisco Bay Area, but he's also written three bestselling books for contractors and homeowners, including "Concrete at Home," and has a nationwide distribution of ShapeCreteTM, encouraging people to try smaller concrete projects.