"Concrete Homes" Features ShapeCrete Founder Fu-Tung Cheng's House 7 Project
ShapeCrete Founder Fu-Tung Cheng's House 7 Los Altos, his seventh custom concrete home project, was featured on the cover of Concrete Homes magazine. Below is an excerpt from the article:
THE INTERCONNECTEDNESS AND THE LIVELY RELATIONSHIP WITH THE ELEMENTS GIVES A SENSE OF WARMTH, CONNECTIVITY, AND HUMAN SCALE TO A DIVERSE CLUSTER OF STRUCTURES THAT PROVIDE BOTH A SANCTUARY AND A SHELTER FOR THE FAMILY.
House 7 is spread over five structures comprising 6,000 square feet. Conceptualized as a small village, the ambitious project includes the two-story main house, office, guest house, meditation center, and garage—that work together to create an aesthetic and kinetic experience.
When it rains, the variety of roof angles, pitches, and folds, were designed to collectively orchestrate the sight and sound of water flow as an art installation, and allow for potential cistern water conservation. The butterfly roof is folded at the front of the house so that 50 percent of the rainwater flows onto the lower roof deck of the separate office structure. There, the water percolates through a 6-inch layer of gravel stone and emerges at the corner of the building to cascade down thick, rusted steel plate rain leaders.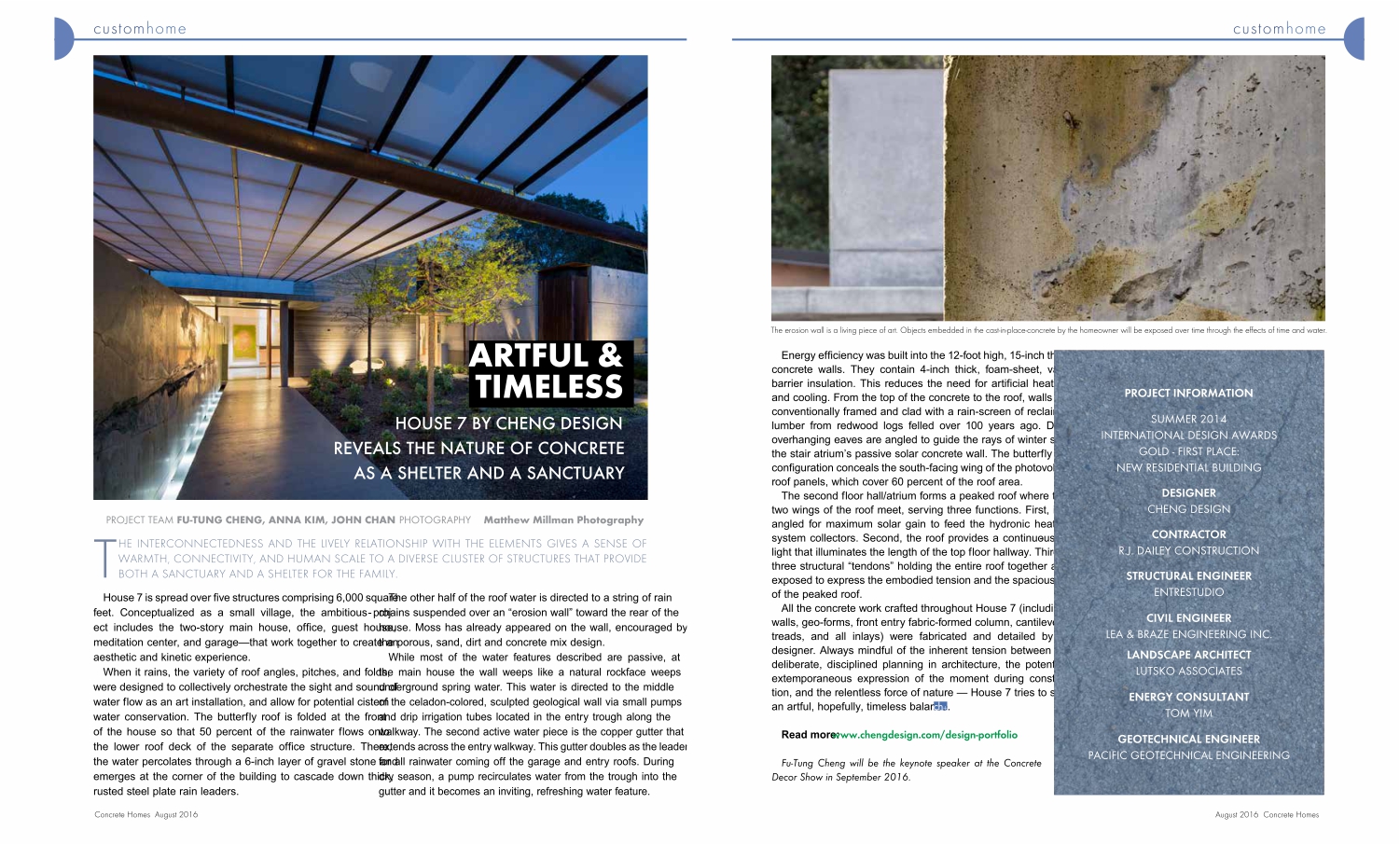 The other half of the roof water is directed to a string of rain chains suspended over an "erosion wall" toward the rear of the house. Moss has already appeared on the wall, encouraged by the porous, sand, dirt and concrete mix design. While most of the water features described are passive, at the main house the wall weeps like a natural rockface weeps underground spring water. This water is directed to the middle of the celadon-colored, sculpted geological wall via small pumps and drip irrigation tubes located in the entry trough along the walkway. The second active water piece is the copper gutter that extends across the entry walkway. This gutter doubles as the leader for all rainwater coming off the garage and entry roofs. During dry season, a pump recirculates water from the trough into the gutter and it becomes an inviting, refreshing water feature.