Shape "Sugar" Skulls for Dia de los Muertos, "Day of the Dead"
Dia de los Muertos, or Day of the Dead, is a public holiday celebrated throughout Mexico honoring deceased family and friends by supporting their spiritual journey. It is a holiday acknowledged and similarly practiced by other cultures around the world. Traditionally, private altars featured sugar skulls and marigolds, favorite foods and beverages were presented as gifts at the altar and graves of the deceased.
Here, we made our own version of the sugar skull with ShapeCrete, which would last...well, a lot longer. A jaunt to the local dollar store (fast becoming our favorite for cheap and easy off-the-shelf molds), yielded this skull tray perfect because it's only about ½-3/4" deep and has a flared edge, brilliant for demolding and reusing this mold.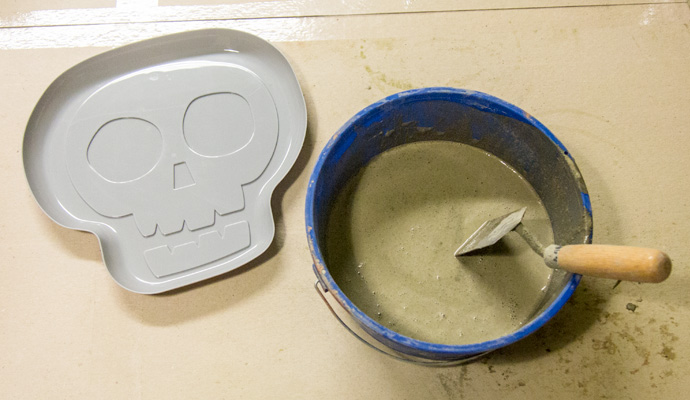 I mixed up about 1/8 of the mix, approximately 2.5lbs. of mix as I figured I could get about 8 skulls out of a ShapeCrete pail.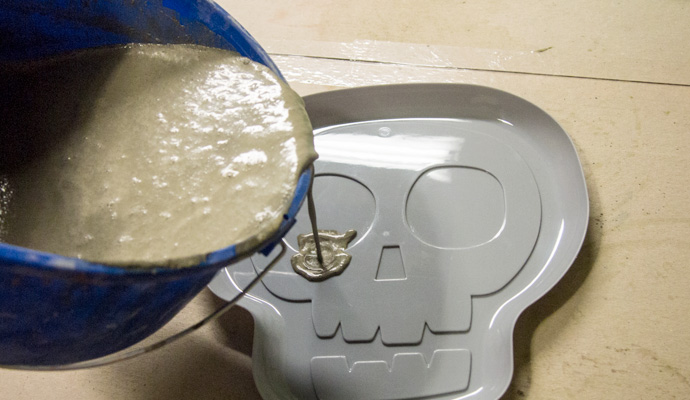 Poured right into the pan, no mold-release or Pam cooking spray needed.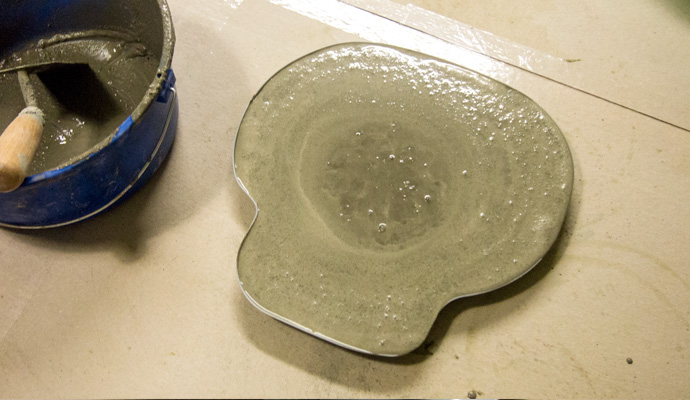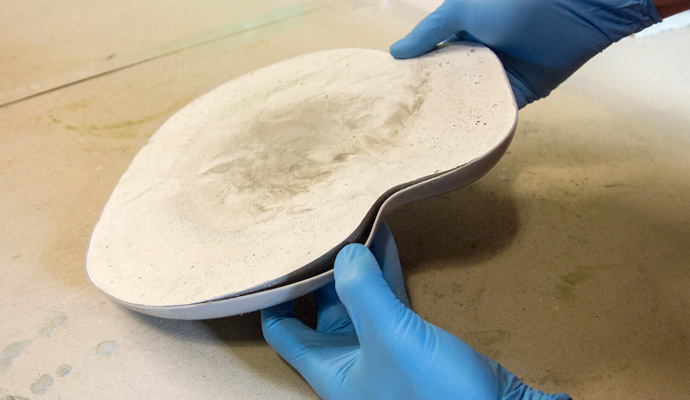 Though I could've pulled this from the mold a day later, I left this to cure over the weekend and was excited to see what type of sheen this tray would provide. The demolding couldn't be easier—tilt and gently "peel" away tray mold. Too easy!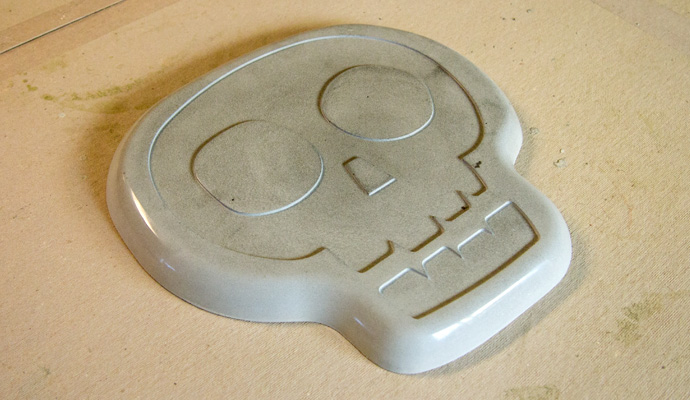 The relief areas of the skull were clean and well-defined. The surface is very smooth with a polished sheen right out of the mold.
Time to paint it white and get coloring. I decided to take the easy route and planned to use Sharpie pens for adding color—this was going to be a very meditative and creative event with the Sharpies. It's also a good project for enlisting the help of young kids to draw designs and color or paint since they don't get to help with the mixing and casting.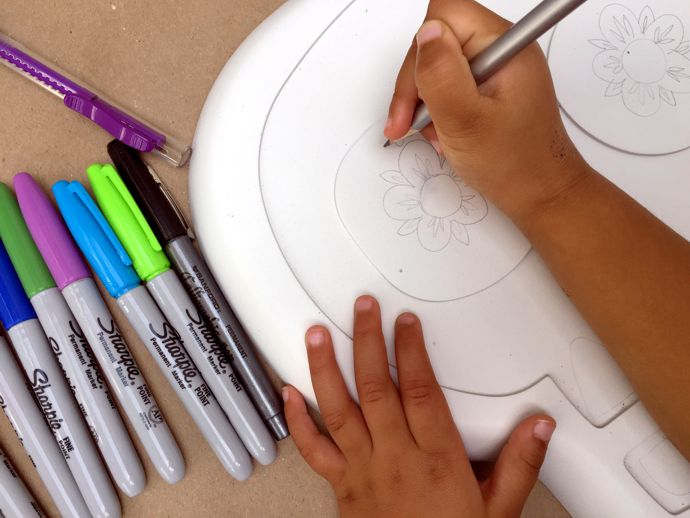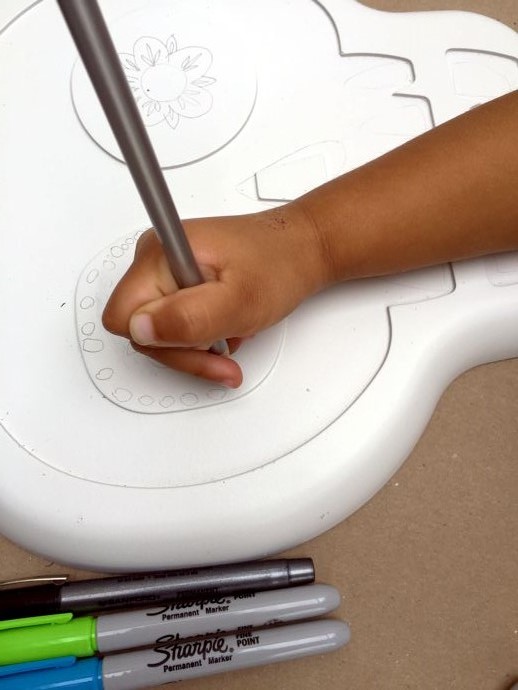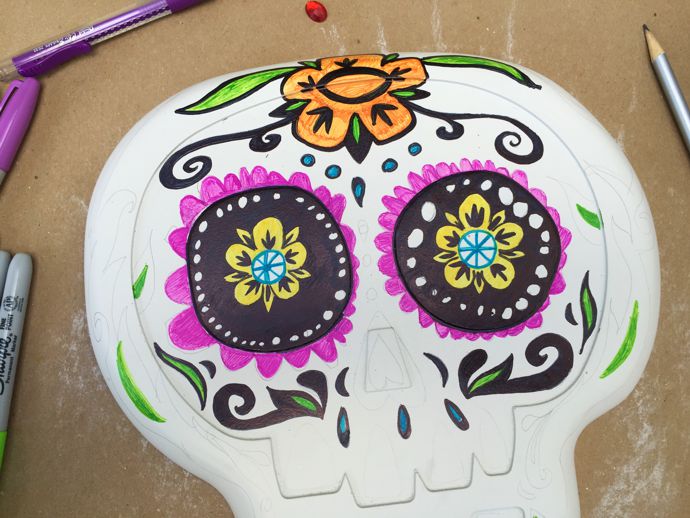 One of the things I was finding was that the Sharpie permanent markers were reacting with the exterior white house paint that I had used for the base of the skull (it was lying around the house). The white paint was sticking to the marker rendering the marker useless until I used a razor to scrape off the paint. In hindsight, I should've used a different white paint—exterior house paint is tough (as it should be)!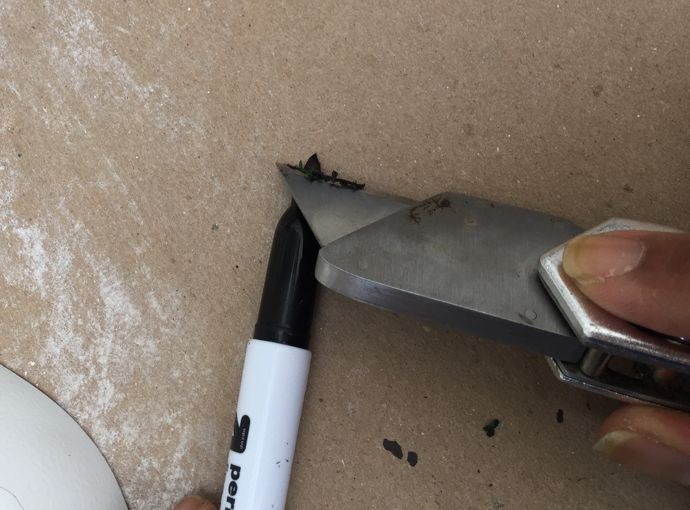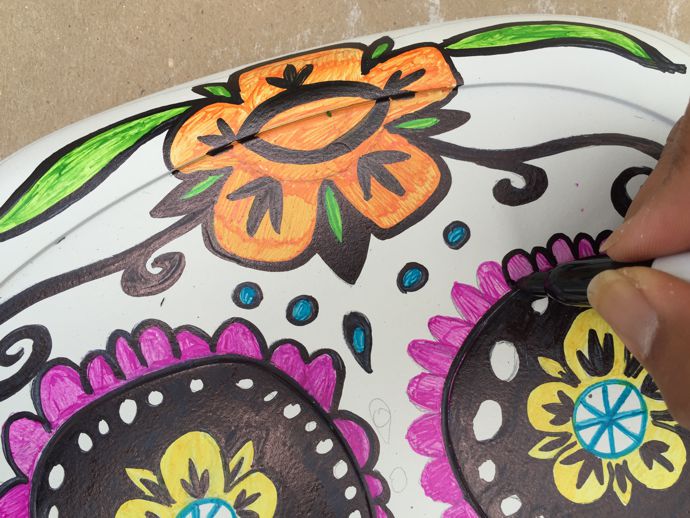 Final touches on this one and...done!
Here's another skull I did with kids, but a three-dimensional one—more like the traditional sugar skulls typically used for Dia de los Muertos, except with ShapeCrete it'll last longer!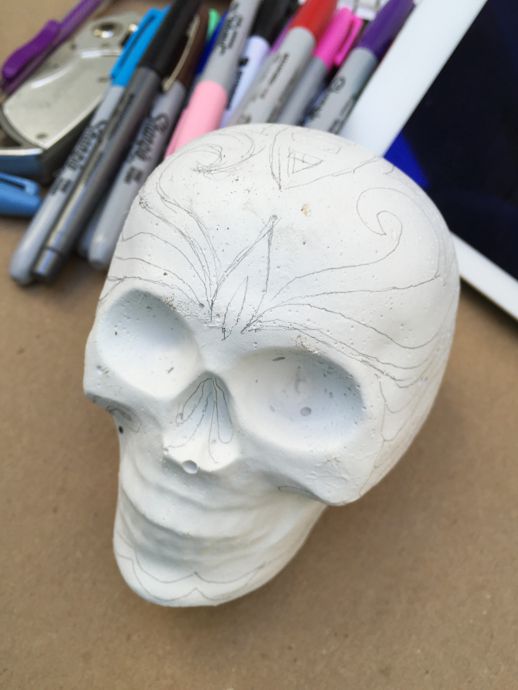 So easy for kids to be part of the fun!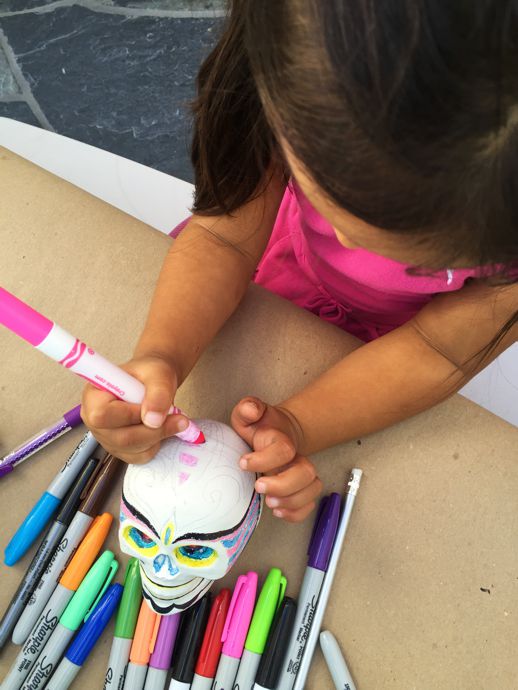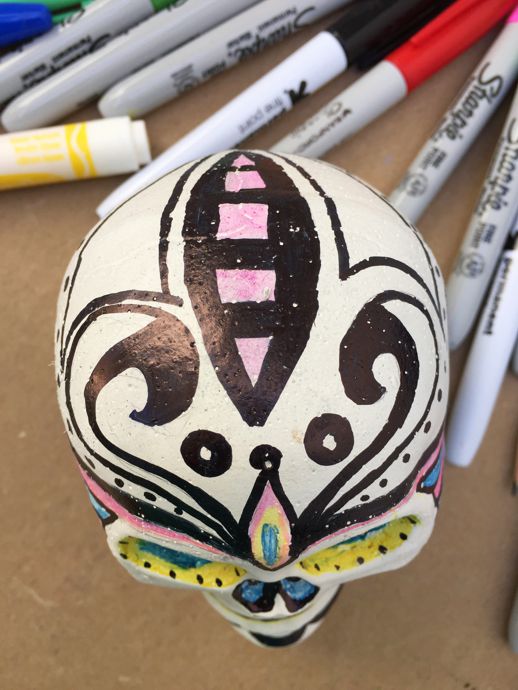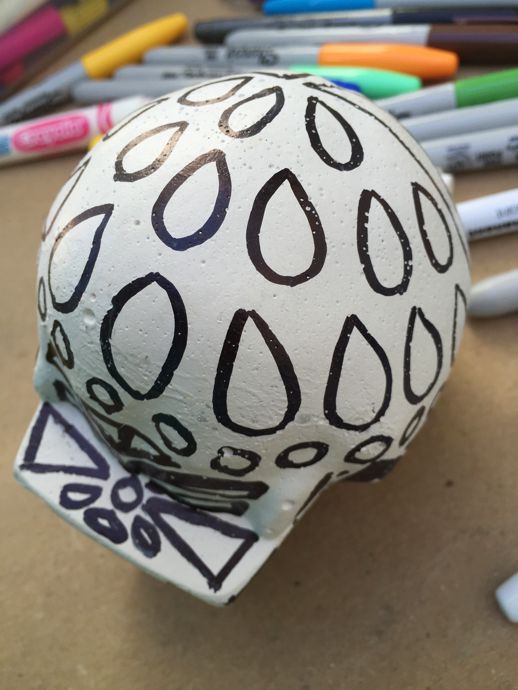 So I wizened up and realized after the first skull that the permanent markers weren't working and raided my kids Crayola markers and what do you know…they worked brilliantly! Only thing to watch out for is that the ink takes a lot longer to dry before touching it otherwise it smears unlike permanent ink.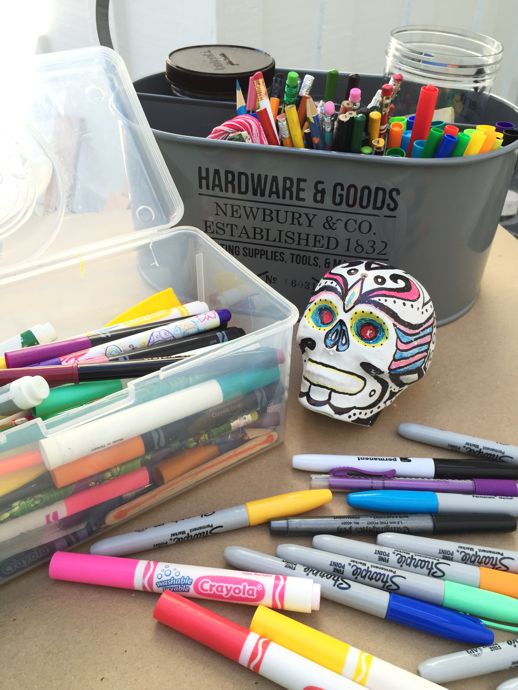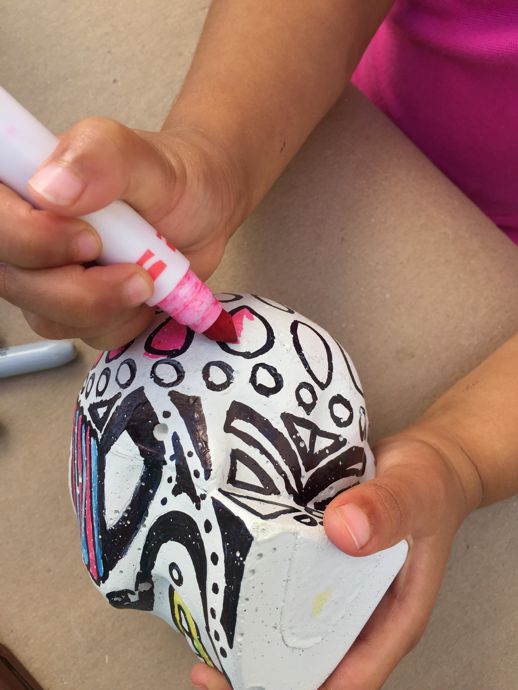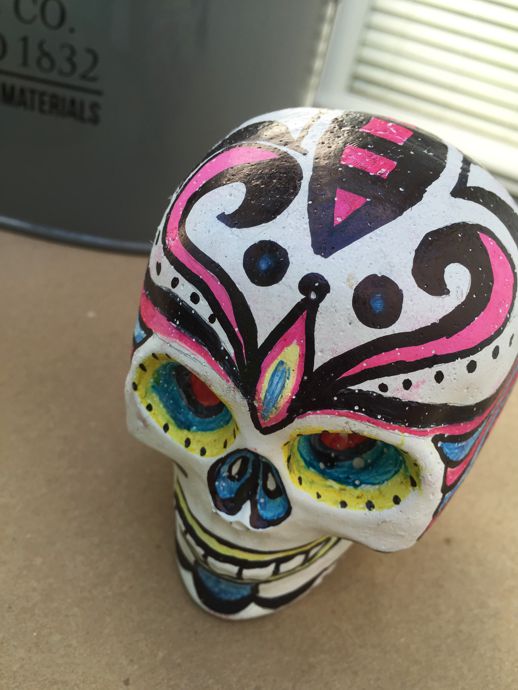 This guy is thrilled to be a doorstop as he welcomes guests in for a "thriller" of a Day of the Dead party!