Spooktacular Zombie Gnomes made with ShapeCrete!
Last month we donated 3500 lbs. of ShapeCrete to sponsor Instructables Build Nights at 17 Maker Spaces around the country. Instructables is a DIY / How-To website with tens of thousands of user submitted projects. Check out some ShapeCrete projects on Instructables, and then sign up to submit your own.
With Halloween around the corner, these Garden Zombie Gnomes made by TrapperEllie were perfect to share and came from one of the Build Nights. She built an armature out of chicken wire and sculpted ShapeCrete into a gnome and a werewolf. The pieces really came to life after she painted them with acrylic paint and a clear polyurethane top coat. This is one of the most exciting (and frightening) projects we've seen and it takes advantage of the unique properties of ShapeCrete, just in time for Fright Night!
We asked her a few questions about her experience with ShapeCrete:
What object or objects did you make with ShapeCrete?
TrapperEllie: I made two Halloween yard sculptures, a werewolf and a zombie gnome!
Did you choose to make these objects before deciding to use ShapeCrete as the material or vice versa?
TrapperEllie: I'd had the idea in my head for a little while but when I heard about the ShapeCrete project through Eureka Factory I decided to use this material for the construction of these items.
Please rate how easy or difficult the instructions were to use the product (1 being very difficult and 5 being very easy). If difficult or very difficult to follow, how else can we improve the instructions?
TrapperEllie: The instructions on the bucket were overall easy to follow (I'd probably rate it a 4 in that respect) however I ended up having to mix the material either thinner or thicker than was instructed on the packaging, depending on what piece of the sculpture I was working on. For instance, the base, feet, main body parts of the sculpture needed to be somewhat thicker to best hold their shape, while smaller detail pieces were mixed thinner. But once I got past this trial-and-error learning curve in mixing it to different thicknesses, it wasn't bad at all to sculpt with.
Please provide any other feedback on your experience with ShapeCrete you'd like to share with us.
TrapperEllie: ShapeCrete has a nice durable feel to it when dry, and does take acrylic paint very well. After painting both sculptures, I sprayed over them with a matte sealant finish so they could be displayed outdoors without the paint coming off. And they still look as bright as the day I painted them!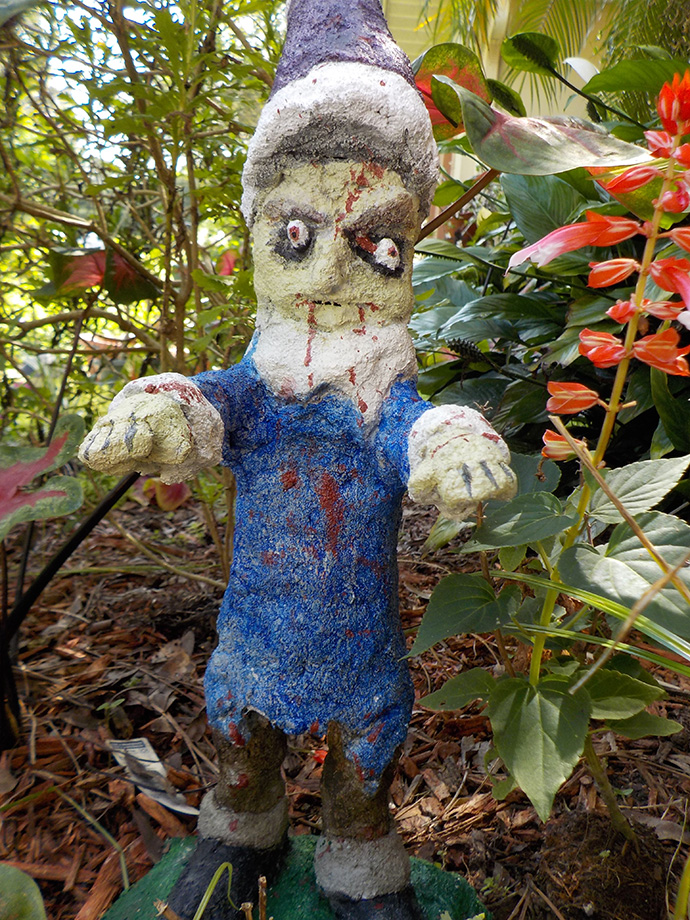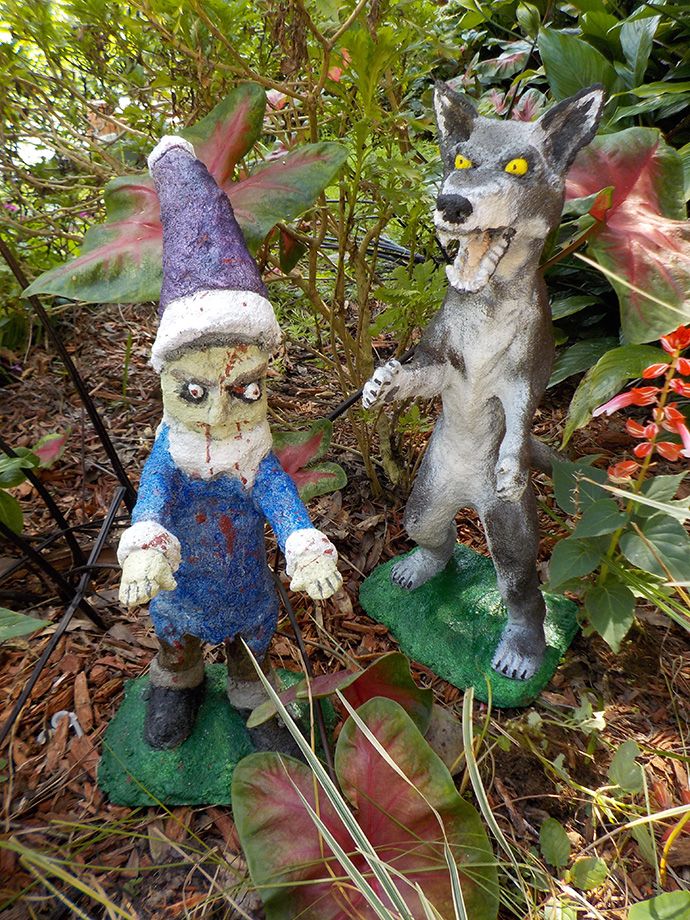 Check out TrapperEllie's full Step-By-Step Instructable and make your own spooky garden gnomes with ShapeCrete. Also check out the Maker Space where TrapperEllie made her gnomes, Eureka Factory. They have a ton of great projects, and another particularly scary ShapeCrete project - Life Sized Cast Concrete Zombie Yard Art by Chuck Stephens. Thanks for the fun projects guys, we can't wait to see what you create next!